Basement Waterproofing, Crawl Space And Drainage Contractors
All Seasons Waterproofing and Drainage, Inc. provides basement waterproofing, crawl space drainage, sump pumps and all the services listed below.
Chances are, if you are visiting our site, you need a responsible and trustworthy contractor. You'll find that All Seasons Waterproofing and Drainage, Inc. is a great choice. We staff a full-service certified and licensed basement and crawl space team and follow simple principles, including; respect for customers, integrity, and responsible services. We show up on time for appointments, perform all of the work promised in our contract and stand behind our work with a written warranty. Homeowners have trusted us for almost 20 years.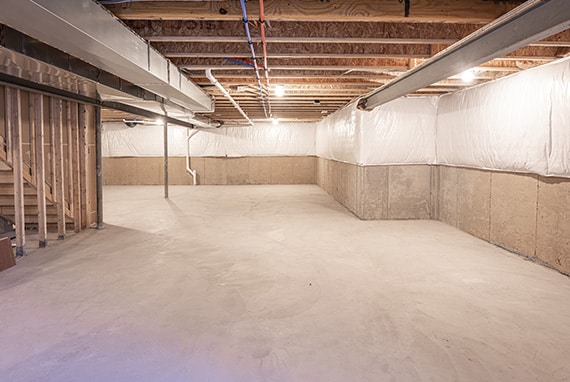 Identifying Foundation and Basement Problems In Your Home
Water seeping in over the
foundation will often leave a trail
of water stains down the
foundation wall.
Solution
Poor yard grading and drainage can cause water to pool up next to your foundation walls.
Solution
The area where the pipe leaves the home through the wall could have a weak seal that lets water seep inside.
Mortar joints become weak over time and start to let water drip into the home and down the walls to the floor.
A sump pump can be used to control basement leaks and flooding. It pushes water out and away from the home.
Solution
Mold and mildew grow whenever moisture, excessive humidity, and organic materials are present inside of the basement environment.
Floor cracks will eventually let water seep into the home when the water table outside the foundation rises or falls.
Solution
A floor drain often becomes clogged with dirt and debris, and it is also not uncommon for tree roots to grow them and obstruct the flow of water.
Solution
A rising and falling water table outside of the home can cause water to be pushed through the cove joint (where the wall meets the floor).
Concrete can become brittle and weak over time if it wasn't poured correctly, and this can make it very easy for water to get inside
Solution
This is typically a white, flaky, and chalky substance that can be seen on basement walls or floors. It is a sign that moisture is present.
Wall cracks could be an indication of an underlying structural problem. They must be filled and sealed before water starts to seep through them.
Solution
When the window well drain is clogged, water will push up against the basement windows until it breaks through the frame's seal.
The pressure relief drain installation crew was very nice, friendly, hardworking, professional, and knowledgeable! Mike was great! Kirk was our systems design specialist and he was very prompt and proposed a great plan to meet our needs.
Jim And Jackie C. – Federal Way, WA 98023
100% Satisfied, they were done in two days
instead of three. The crew was great,
explained what they were doing, worked to
minimize the damage to our floor, and left us
a clean edge to work with