Basement Waterproofing
A wet basement is a common problem with all types of basements, from poured concrete to stone to block. At All Season's Waterproofing and Drainage, Inc., we've dried thousands of each type of basement. A dry basement will protect the investment you made in your home as well as enable you to use the space for storage or as additional living space.
Today, disclosure laws are such that whether you fix your leaky basement now or fix it before you sell your home, at some point in time, it will need to be fixed.
If your basement or crawl space is damp or wet, if you have mold/mildew in your home or if your basement living space reeks of odor, consider allowing one of our certified waterproofing repair specialists to assess your problem and propose some solutions. There have been a lot of advancements over the years pertaining to water drainage. At the end of the day, the solution is really quite simple, and that is to re-direct water where it doesn't ruin living space.
Our consultants will be glad to spend the time to educate you on the issues and provide you various options and repair methods available. At ALL SEASONS WATERPROOFING and BASEMENT, Inc. we are dedicated to 100% customer satisfaction. We treat every customer with dignity and respect. Call or email us today for a free consultation.
Why do basements leak?
The Clay Bowl Effect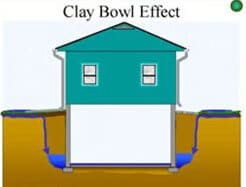 When your home was built, a hole was excavated into very hard, virgin soil to accommodate the basement. The ground never "forgets" this hole, thus whenever the ground becomes saturated, water will always seek to fill this hole. This water creates pressure around your walls and floor that allows for seepage opportunities at any cracks or joints. This water pressure will occur during prolonged heavy rains despite your best efforts to keep ground water away from your home. That is why extending downspouts, building up the grade, caulking driveway cracks, and even adding room addition slabs may mitigate the amount of seepage you receive, but won't solve the problem.
Three Types of Leaks
Locating where water is entering your home is key to choosing the appropriate solution, so mark the source whenever the seepage is active.
Through the walls: The most common basement leak is due to seepage through wall cracks. These cracks will continue to deteriorate and will eventually leak, and this seepage will get worse over time. Other possible wall leaks are tie rod ends, honeycombed concrete and pipe penetrations.
Through the floor or floor/wall joint: Most modern homes are built with a drain tile system around the footings to keep water from creating pressure against the floor or cove area (floor/wall joint). Some drain tiles run into the sump pump, others to the city storm sewer system. If seepage occurs in this area, check your pump's operation first, if that is working normally, then your drain tile is not.
Over the top of the wall: Water entering at the top of the wall, between the concrete and wooden sill-plate, is due to one of 2 things: The soil grade has been built up outside the home, higher than the concrete. Homeowners, in their efforts to keep water away from the foundation, build the dirt level higher than the concrete wall, ironically creating a seepage problem through the below grade brick or siding. Sometimes there is an above grade penetration of water, due to a caulking or tuck pointing issue. Any water that penetrates the veneer of the house will run down the back side of the siding and appear at the sill-plate juncture in the basement. The surest way to verify which of these two "spillover" problems you have is to water test by running a hose on the ground on a dry day. If water comes in, it is a below-grade problem. If water does not come in, then it is an above grade problem that will require caulking, tuck pointing or possibly roofing repairs.
Your basement needs to stay dry
The basement is a valuable part of your home and is designed to be dry, usable space, whether as a finished recreation room, a workshop, or simply a safe storage area. Once a leak occurs however, its usefulness and value is very limited – fortunately permanent solutions are available for all seepage problems.